Isle of Islay Gin
Nerabus Gorse
Like Heather, Gorse is in abundance on the Isle of Islay and stays longer in bloom than the Heather. We wanted a lighter gin incorporating gorse, sweet almond and citrus . The gin is juniper led and a further seven herbs and spices are added to create Nerabus Gorse, 40% ABV.

Why Choose 40% alcohol content?
We wanted a range of gins that offer different alcohol strengths as people have different tastes and preferences. Our Gorse gin is the lightest version we produce at 40% ABV.

Tasting Notes
With the complexity of the juniper, gorse, citrus and sweet almond this gorse gin works well with a plainer tonic. We chose a Mediterranean tonic . First roll the neat gin around the whole of your mouth to really get the flavours; your cheeks will sense the sweetness and lightness of this gin.

To Serve
As the Nerabus Gorse is a lighter gin you may even want to drink it neat with a block of ice. As the Nerabus Gorse is lighter it is excellent in cocktails (see our cocktail recipes). If you would like to add tonic, choose a plainer tonic like a Mediterranean tonic. Add a block of ice, and a slice of lemon.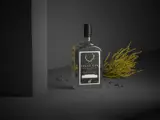 Isle of Islay Gin
Visit our Visitor Centre at Islay Square or order your bottle online today.