Isle of Islay Gin
Nerabus Heather Navy
Following our original recipe of the heather Gin (42% ABV), the Heather Navy Gin is a stronger version with its alcohol content being 57 % which is 114 proof.

Why Choose 57% alcohol content?
The British Royal Navy would often keep their gin on board their vessels below deck where they also stored their gunpowder. To ensure that the merchants providing the gin were not selling diluted spirits. It is thought that they would test out how strong their gin was by testing it on a small sample of gunpowder soaked in spirit. If the gunpowder didn't light then the gin had been diluted down, if the gunpowder still lit then they knew that the gin was at least 57% abv (114 proof); it became therefore known as Navy Strength Gin.

Tasting Notes
The earthiness of the Heather comes through stronger in the Navy Strength. First try a little on the front of your tongue where you will taste the sweetness of the gin. Then swallow a small amount, you will feel the strength of the Navy Gin in your throat.

To Serve
Like the Nerabus Heather 42 %, the Nerabus Heather Navy is nicely paired with an aromatic tonic or a plain tonic with a couple of dashes of Angostura Bitters. Add a block of ice, slice of lime or orange to bring out the favours.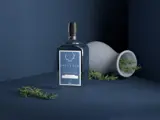 Isle of Islay Gin
Visit our Visitor Centre at Islay Square or order your bottle online today.