Isle of Islay Gin
Clementine Gin
- 3 large Clementines (makes approx. 900mls)
- 200g caster sugar
- 700 mls Gin

Quarter the clementines (keep the skin on) and add them to a 1.5 ltr jar. Add the sugar and gin. Seal and leave to steep for 2 weeks. Turn the jar up and down every few days. After 2 weeks, strain through a sieve. Discard the clementines and pour the gin back into the jar – clementine gin!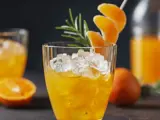 Isle of Islay Gin
Visit our Visitor Centre at Islay Square or order your bottle online today.