Isle of Islay Gin
Gin Alexander
- 45 mls Gin
- 30 mls Crème de cacao
- 22 mls single cream
- 15 mls egg white
- Nutmeg for garnish

Pre chill a cocktail glass in the freezer.

Half fill the shaker with ice. Pour in the gin, crème de cacao and cream and shake well.

Strain into a cocktail glass.

Add the egg white separately into the shaker and shake until frothy. Add to the top of the cocktail in the glass. Grate a little nutmeg on top.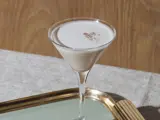 Isle of Islay Gin
Visit our Visitor Centre at Islay Square or order your bottle online today.