Isle of Islay Gin
Negroni
- 22mls sweet vermouth
- 22mls Campari
- 22mls Gin
- Slice of orange

Pop a crystal whisky tumbler in the freezer for 20 minutes. Mix the ingredients together in a shaker, pour into the crystal glass and garnish with a slice of orange.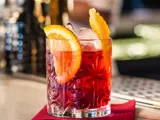 Isle of Islay Gin
Visit our Visitor Centre at Islay Square or order your bottle online today.