Isle of Islay Gin
Nerabus Bomb
- 35 mls freshly squeezed lemon juice
- 45 mls of Gin 3 tsp caster sugar
- 90 mls Champagne or Prosecco
- A lemon slice to garnish
- A dash of Chambourd is optional for pinkness and sweetness

In a cocktail shaker, mix the lemon juice and sugar together until the sugar dissolves. Add a few cubes of ice, the gin and shake well.

Strain into a champagne glass and top up with bubbles.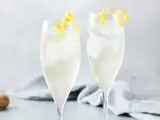 Isle of Islay Gin
Visit our Visitor Centre at Islay Square or order your bottle online today.