Isle of Islay Gin
Nerabus Gorse G&T
- 50 mls Nerabus Gorse Gin
- AMediterranean Tonic to your taste
- Slice of lemon
- Lemon juice for the rim of the glass

Chill your Gin goblet in the freezer for 30 minutes. Then lightly add lemon juice around the rim of the glass. Add your Gin and top up with tonic to your taste. Add a slice of lemon to garnish.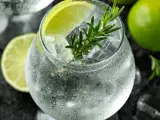 Isle of Islay Gin
Visit our Visitor Centre at Islay Square or order your bottle online today.