Isle of Islay Gin
Tangerine Dream (makes 6)
- 60 mls Clementine Gin (see recipe)
- 60 mls Campari
- 120 mls Freshly squeezed clementines
- 1 bottle of Champagne or Prosecco


Chill 6 flutes in the freezer or half fill the glasses with ice for 30 minutes then empty out the ice.

Add 10 mls of Clementine Gin into each flute.

Add 10 mls of Campari to the top of the Clementine Gin. Add 20 mls of freshly squeezed clementine juice to each glass then slowly top up with Champagne of Prosecco.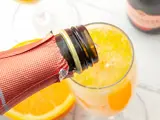 Isle of Islay Gin
Visit our Visitor Centre at Islay Square or order your bottle online today.