Isle of Islay Gin
The Gimlet
- 60 mls of Navy Strength Gin
- 45 mls Rose's Lime Cordial
- 22mls freshly squeezed lime juice

Place your Gin goblet in the freezer for 30 mins. Add all the ingredients, mix and add ice if like it cool and long.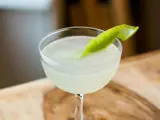 Isle of Islay Gin
Visit our Visitor Centre at Islay Square or order your bottle online today.