Nerabus is a small hamlet situated in the Rinns area on the west coast of Islay and overlooks the Loch Indall an Islay sea loch. The 'bus' part of Nerabus can be seen in other hamlets and villages around Islay; it means farm and we have interpreted the Nera part as – 'by the sea'.

Nerabus is surrounded by wildlife, including red and roe deer, geese and recently, a pair of sea eagles. The spring sees the geese depart and brings swallows, hen harriers and choughs.
Slochd Measach otherwise known as The Giant's Grave is a Neolithic chambered cairn located between Nerabus and the summit of Beinn Tart a'Mhill. Around the Nerabus Cemetry is also a memorial to the Clan Donald – so Nerabus is one of the many historical sites on Islay.

The inspiration for our brand and botanicals stemmed from the abundance of wild Islay Heather, Islay Gorse and the wild deer that roam. The wild gorse for our second gin is all over the island, beautiful in a yellow bloom from February onwards. The Heather blooms once a year during August and September.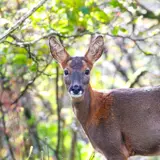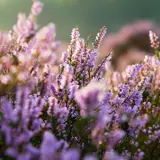 Heather
Scotland is renowned for its purple/pink blooms of heather in the summer months. It only blooms once a year and can usually be found on wet peated ground. Islay has an abundance of heather and the peated moorlands of Islay are perfect for the heather to grow and flourish. Heather can withstand harsh climates and can be found growing as far north as Iceland.

The wild Islay heather is picked sustainably in the summer months when the flowers are out. It is then dried over the winter months.
Gorse
Gorse is a bright yellow bush and is plentiful in Scotland and on the islands. Islay is no exception and the gorse flowers for most of the year. The spring brings the scent of coconut and almond with its flowers. It is also known in Scotland as Whin and it can sometimes be mistaken for Broom which also has yellow flowers. The gorse has sharp spikes along its stem and can withstand the strong winds of Islay.

The wild Islay gorse is picked sustainably in the spring and summer months when the yellow flowers are at their best. Like the heather flowers, it is dried over the winter months.
Isle of Islay Gin
Visit our Visitor Centre at Islay Square or order your bottle online today.